Despite the fact that lighting is necessary, most of us pay little attention to the costs connected with it, maybe because it is not a large-ticket item. However, you must consider more than just the initial cost of purchasing a tube light or bulb. Before making a selection, other expenditures such as replacement and power consumption must be carefully evaluated. Since the majority of the running cost of light fixtures is made up of power, choosing an energy-efficient choice like installing LED lights can help you save a lot of money in the long term.
Some Great Reasons for Installing LED Lights In Industry
1. Saves Electricity Cost
Do you know if a 60W halogen light bulb, for example, replaced with a 9W LED will equate to an 85 percent reduction in electricity consumption? The LED bulb will also live for over 20,000 hours, versus 2,000 hours for a halogen lamp – a tenfold jump!
LED lights have a little greater initial cost, but their energy efficiency and durability make up for it. Because of their lifetime and light emission per watts, LEDs have a significantly faster & higher return on investment. Depending on the product and manufacturer you choose, LEDs can cost 30-40% more than conventional lighting solutions, but they last four to five times longer. This not only saves you time and effort by reducing the frequency with which you must replace them, but it also makes sure that LED lights are environmentally friendly.
Unlike traditional lights and CFLs, LED lights do not heat up, making them completely safe to use. Hence, they pose no risk of igniting a fire which can lead to a significant amount of loss. Thus, they make an excellent choice for the office or warehouse lighting.
4. Considerably Low Carbon Footprint
Do you want to lower your company's carbon footprint and save money in the future? Installing LED lights will be the apt choice for you. Where most of the industries will be shifting to this environmentally friendly lighting in the near future, installing them now can save you a lot of money till then. 
5. More Illumination With Fewer LEDs
As previously said, LED lighting is incredibly convenient, and they are also quite bright, resulting in a high level of vibrancy. When compared to standard lighting solutions, you won't need as many LED's specially if used in the parking spaces, and basements because of their shine and you'll obtain the best results with fewer products.
6. Reduction In Operating & Maintainance Costs
Did you know that installing LED lights can last up to 50 times longer than incandescent lights and run five times longer than compact fluorescent lights? This equates to decreased operating costs and a substantial decrease in-office maintenance. The latest LED lights can last up to 50,000 hours and provide high-quality illumination. Apart from these merits, LED bulbs do not "light out" like incandescent or fluorescent bulbs as they age; instead, they become less luminous.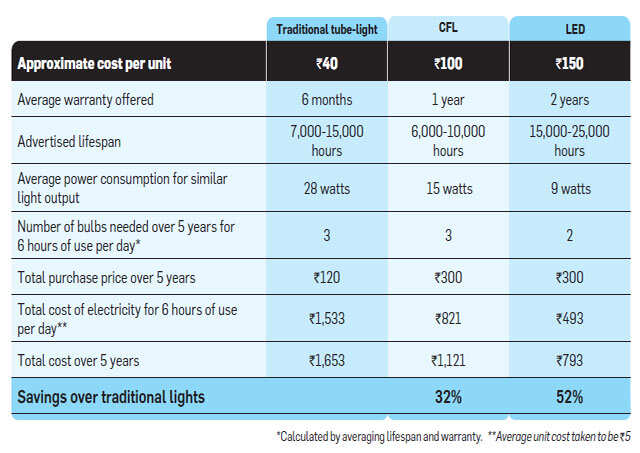 Now that we know that switching to LED lighting can help you save money on electricity, it won't be wrong to say that it also increases productivity while lowering your carbon footprint. Replace your fluorescent bulbs with energy-efficient LED lighting and join the rising number of companies who are doing so. Upgrading to LED lighting might save your company tens of thousands of pounds in electricity costs each year. You can also make your workplace far more productive, pleasant, and healthful with these little tips.
With ample LED lights manufacturers in the market, it can be tough to pick a perfect lighting partner, and hence here, we at Fablite will make it easier for you. We have some of the smartest lighting solutions with the classiest product options available for you. Do have a look at our collection and move towards smart lighting solutions today.